What is the Japan-America Grassroots Summit?
The Japan-America Grassroots Summit is an annual gathering of Japanese and American citizens, held alternately in Japan and America. It celebrates the historic friendship between Nakahama Manjiro and Captain William Whitfield. Manjiro was a 14-year-old fisherman when he was marooned off Japan's coast. Whitfield rescued the young Manjiro, brought him back with him to the United States and shared his own home with him there. Years later, because of his rare command of English and unmatched experience in America, Manjiro played a pivotal role in the newly forming relationship between Japan and the United States.
Every year since 1991, some 100 to 200 people have traveled across the Pacific to take part in the annual Grassroots Summit. Japanese prefectures and American states alternate as host regions for about one week, with locals sharing their homes and the unique features of their communities and guests enjoying sight-seeing, cultural activities, receptions, and homestays with them. Together, guests and hosts make meaningful memories in the spirit of genuine omotenashi -- hospitality and open-hearted friendship.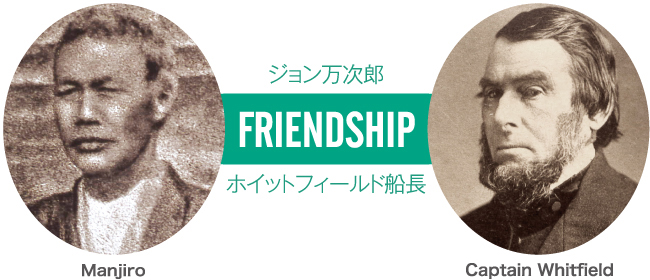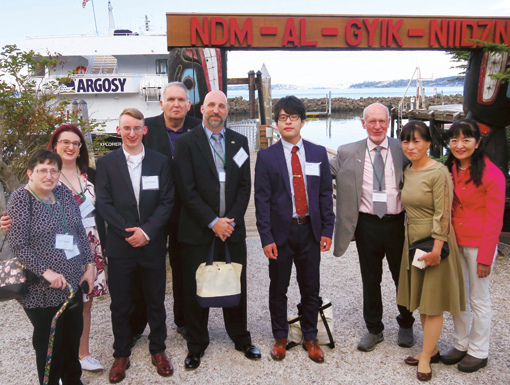 What makes the Grassroots Summit a
one-of-a-kind

experience?
| | |
| --- | --- |
| The homestays | No better way to learn about life in a foreign country |
| The hosts | Homestay hosts who share your particular interests |
| The communities | local culture, the local landscape, and especially, the local people |
| The volunteers | hundreds of locals working to make the experience special for their guests |
| The guests | people of all backgrounds, ages 3 to 93, some who speak the host-country language and some who've never tried, seasoned travelers and first-timers, all of them eager to explore, learn, and share |
What happens at a Grassroots Summit?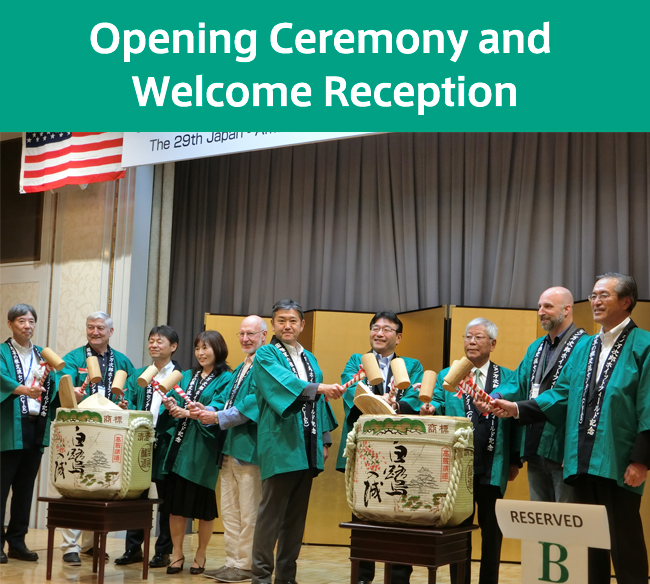 First, an Opening Ceremony and Welcome Reception -- with local entertainment and local cuisine. This is the first chance for guests to meet people from their host region -- local volunteers, performers and artists, dignitaries. Optional local sight-seeing tours are available earlier in the day.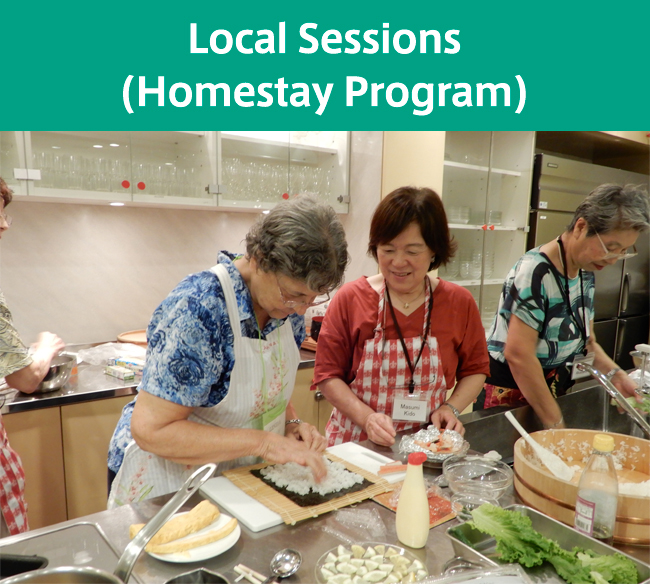 Next, the local sessions, the highlight of every Summit: four days and three nights with host families in homestay towns thoughtfully matched to guest interests and preferences. During these homestay days, local town leaders and host families work together to share the best that their communities have to offer. This person-to-person exchange and shared enthusiasm for local and cultural experiences is the essence of the Japan-America Grassroots Summit.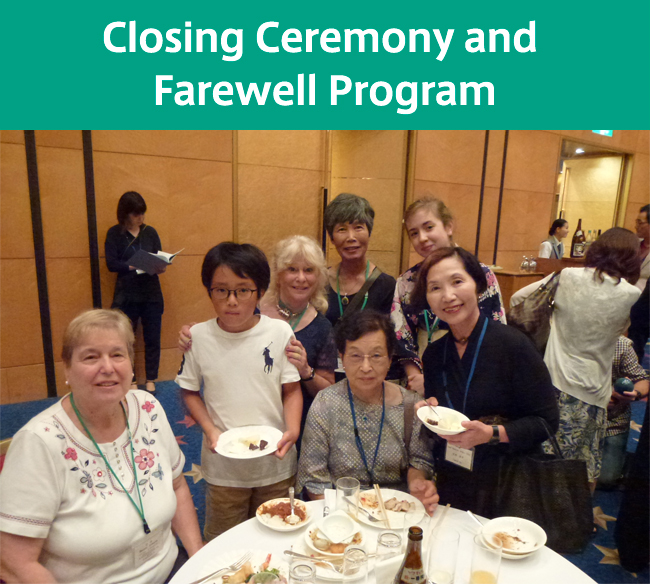 Finally, the Closing Ceremony and Farewell program -- where guests, host families, volunteers, and others who have connected with each other during the Summit gather together as a group once last time.
From Keyperson Hiroshi Nakagawa, Noto 2007
The most memorable moment was seeing my mother, who is 80 years old this year, speaking to our guest, Barbara! Of course my mother cannot speak English at all. Barbara spoke English, and my mother spoke in Japanese, and yet somehow they seemed to understand what the other wanted to say. So, we can connect heart to heart even without words, after all.
From host Amy Jackman, Kentucky, 2008
It is amazing how 'close' you can become to strangers who don't speak your language! (Amy Jackman)
From host Masatada Kawasaki, Kochi
''He's here, he's here!'' I shouted as Brady Hanson, our homestay son, arrived. All 8 members of my family felt so happy to be able to welcome him into our home and show him Kochi prefecture.
From host, Jeannie Ichimura (Host family and Participat of Kochi Summit in 2011)
It was extremely enriching to open our home to our new friends from Japan… Our home-stay guests were a mother and daughter from the Sendai area… a perfect match since we also have two daughters. The girls became instant friends despite the language barrier, and we have remained in contact throughout the year. They even came back for another visit with us this summer!
From guest, Brady Hanson
A Life - changing experience … It was like stepping into my wildest and most wonderful dream.
From guests, Gary and Jinnifer Walsh, Kochi, 2011
an experience of Japan that is both memorable and poignant.
From guest, Kelly Morikawa Miyagi 2009
I will definitely plan to come back to Japan. Especially now that we have many friends there!

How can I participate in a Grassroots Summit?
Join us as a guest, a host, or a volunteer! The Local Sessions are the highlight of the Grassroots Summit. Guests learn about local culture and traditions. Hosts and volunteers rediscover their own home towns through the eyes of their guests. And hosts, guests, local volunteers, and staff share in the adventure together and develop lasting friendships and mutual understanding.
More than 50,000 people have participated in the Grassroots Summits over the course of almost three decades. Year after year, the Grassroots Summit's three-part program gives hundreds of people from Japan and America the chance to enjoy all that is best from each other's homes in ways that they say they never forget.