Since 2009, Dr. Matthew C. Perry, a descendant of Commodore Perry, has been participating the Japan America Grassroots Summit, and writing the essays about his experience every year.
This year, too, he sent his essays with photos about his participation in the Shimane Grassroots Summit 2013, and his visits to Sendai, Kochi, Yokohama after Shimane.
Please read and enjoy his thoughtful essays.




SHIMANE PREFECTURE - LAND OF MYTHS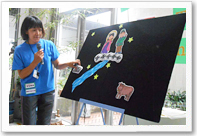 Shimane Prefecture is the land of myths and it is said that more Japanese myths originate in this area than any other area in Japan. I learned about many of these myths while attending a cultural exchange program called Grassroots Summit and sponsored by the Center of International Exchange in Tokyo. Certainly, other countries have myths, but what amazed me was the currency of Japanese myths in their everyday surroundings. I came to enjoy hearing about these myths and seeing the enjoyment of my hosts and guides in sharing myths with me.

→ For a PDF version of the article, please click here. [ PDFファイル 773KB ]

TOMB OF THE UNBORN BABIES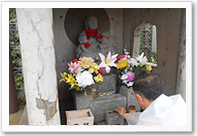 When I was in Matsue, Japan, my host family, Ichiro and Takiko Yoshino, escorted me to a coastal area and, after a short but wet boat ride, we visited a cave (Kyu-kukedo) that is called the tomb of the unborn babies. The cave contains hundreds of little statues, toys, and flowers left by many visitors. There also were hundreds of small piles of stones that are said to be placed at night by the children for their bereaved parents and siblings.

→ For a PDF version of the article, please click here. [ PDFファイル 966KB ]

THE TSUNAMI AND THE RECOVERY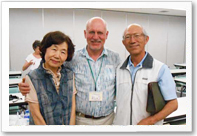 When I registered for the 2013 Grassroots Summit in Shimane Prefecture, Japan, I also registered for the post-summit trip to Sendai. This city is in Miyagi Prefecture, where I had visited in 2009, and I was eager to revisit old friends and to see the damage done by the tsunami that struck the area on March 11, 2011. After the disaster I tried to contact my 2009 host family, Kou and Kazue Sato, in Matsuyama.


→ For a PDF version of the article, please click here. [ PDFファイル 525KB ]

MEETING MANJIRO ENTHUSIASTS IN KOCHI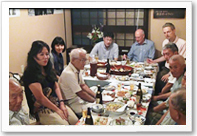 Sometimes things just work out perfectly!! My trip to Japan in July 2013 was mainly planned to participate in the Shimane Prefecture Grassroots Summit sponsored by the John Manjiro Whitfield Commemorative Center for International Exchange, based in Tokyo. The meetings took place in Matsue City, where I also had my exciting homestay. Months before my trip I had received an invitation from Dr. Joel Joos inviting me to the University of Kochi to give a lecture on Commodore Perry.

→ For a PDF version of the article, please click here. [ PDFファイル 449KB ]

YOKOHAMA: EXPLORING COMMODORE PERRY'S PORT OF CHOICE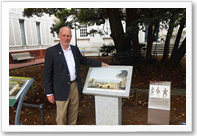 While I was making plans to attend the Grassroots Summit in Shimane Prefecture, Japan, I received an email message from Mr. Koichi Imazu, a friend of mine since my 2011 trip to Japan. He asked if I could possibly extend my trip so I could speak to the Yokohama Kurofune (Black Ship) Research Society. Although I already had a full trip schedule, I could not turn down the opportunity to speak to this prestigious group, meet Koichi again, and to see sites visited by Commodore Perry.

→ For a PDF version of the article, please click here. [ PDFファイル 1MB ]

SAMURAI WARRIORS (EDO PERIOD)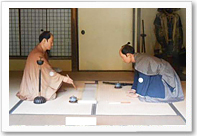 My trips to Japan in recent years, as part of the cultural exchange sponsored by the Center for International Exchange in Tokyo, have increased my interest in samurai and the influence the samurai period had on Japan. The samurai warriors supported different feudal lords (daimyos) throughout Japan and for centuries bitter fighting occurred between different fiefdoms. The Edo Period in Japan ranged from 1603 to 1868 when the Tokugawa Shogunate period ended and the Emperor was restored to power.

→ For a PDF version of the article, please click here. [ PDFファイル 1.1MB ]


Back to preceding page

Back to top

Gary and Jennifer Walsh

We will return to Kouchi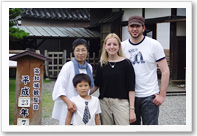 This was my fourth time participating in the Grassroots Summit. This year my wife was also able to go along with me and that made this trip all the more special. We had a great time meeting the other participants, volunteers, and host families. I would have to say that of all the places I have visited in Japan, Kochi is my favorite. My wife and I plan to return someday and explore all that Kochi has to offer.
Although we did not get our first or second choice for our home stay, we could not have been happier with the area and host family selected for us (Nakatosa-Kure). We hope to remain in contact with them and visit them again. The Grassroots Summit creates an experience of Japan that is both memorable and poignant.
Ellyn Roberts

One of the best experiences I ever had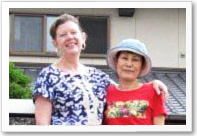 My trip to Kochi was wonderful in every way. It was one of the best experiences I ever had. My host family, were incredibly kind and generous. They opened their lovely home to me, fed me fabulous home-cooked meals with vegetables from their garden, taught me calligraphy, took me to see the sights (including a private tour of Kochi castle!) and even had a party for me. I could not have asked for nicer hosts. My stay in their home was absolutely the best part of my 18-day trip to Japan. I am very grateful to them for making it all happen.
Brady Hanson

Japan - Life - changing experience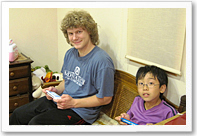 This was my first time to Japan as well as my first time overseas at all. For as long as I can remember, I've dreamed about coming to Japan; ever since I was little. When I heard about this summit group it was like a dream come true, I finally had a chance to see the country I've always dreamed about visiting.
The opening ceremony was held. I was absolutely astonished at the energy and skill of all the performers in the ceremony. That night during the reception, I managed to make a friend with a guy, despite the fact that neither of us spoke much of each other's languages, we managed to communicate just fine.
After visiting all kinds of beautiful sites all around Kochi, which are to breathtaking to even attempt to put into words, (and even on the roads we passed everything was beautiful), and meeting all kinds of people, I met my host family. My initial plan was to dress up before meeting them, but the summit group surprised me by having us meet up with them. So, rather than being prepared to introduce myself, in startled, surprised, and very broken (bad) Japanese, I managed to establish who I was, and traveled with him to his home. For the next few days, I saw the sites around Konan city with my host family. My host family treated me as if I was actually part of their blood family, which was very kind of them.
While with them, we managed to communicate despite the fact that I know little Japanese and the most Japanese was spoken by their children, which was shockingly good. I remember getting up one morning and seeing Rena preparing breakfast, I offered to help and she asked me if I liked to cook. So I like to think we managed to bond and communicate by being in the kitchen. And I remember discussing and playing video games with the children, which allowed me to bond with them.
And although the entire family went through great effort to communicate, I believe that Daiya took the most time to talk to me, I remember we spend a good deal of our time together with our heads in bilingual dictionaries.
They showed me all kinds of sites around Konan, shrines, monuments, even Kochi castle and a long tailed rooster breeder. And then, before I knew it, we were departing for the closing ceremony, where heartfelt final messages were exchanged. I remember waiting for the bus with my host family and I was barely holding back tears as I was preparing to leave them (they were like family to me, even after only spending a few days with them). Thanks to the Manjiro group, I was able to make a personal connection with a wonderful family, despite us speaking different languages.
All in all, Japan was exactly how I imagined it would be, if not better.
It was like stepping into my wildest and most wonderful dream. After returning from Japan, I had a drive to study hard and to also become fluent in Japanese, my goal is to eventually move to Japan and get permanent residence (preferably in Kochi prefecture or perhaps Hiroshima).
After visiting the country once, and by meeting so many wonderful people, I know that whatever I do, I want to do in Japan. And I sincerely thank all the staff of the Manjiro summit group for showing me the real Japan and giving me direction in my life.
Thank you very much for showing me the country I wish to spend my life in,
Masatada Kawasaki (Host family at Kounan local session)

Communication with dictionaries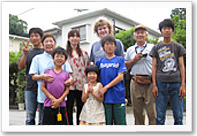 ''He's here, he's here!'' I shouted as Brady Hanson, our homestay son, arrived. All 8 members of my family felt so happy to be able to welcome him into our home and show him Kochi prefecture. We looked over Kochi from the castle, viewed the statue of Ryoma Sakamato from a boat, viewed the map of Japan in stone in Iwasaki Yataro's garden (founder of Mitsubishi) and took photos at Harimaya bridge.
Brady wants to be a vet, the same as my grandchild, who started at Kochi Agricultural High School earlier this year. I hope both of their dreams come true.
Over the 3 nights and 4 days all of us did our best to communicate with Brady with our dictionaries. Spending time with him was an extremely enjoyable and valuable experience. I wish him all the best for the future.
Akiko Ando (Volunteer Translator)

I am filled with a sense of completion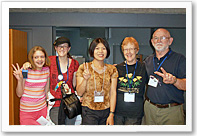 Hearing participants say ''That was such a fantastic experience!'', ''I was touched by everyone's kindness and hospitality'' and ''I love Kochi!'' is one of my favorite memories of the 2011 Kochi Summit. After working as a volunteer there, it was wonderful to hear how people much they enjoyed it and that everyone's efforts and hard work created a fantastic experience for all.
I found out last year that the 2011 Grassroots Summit was to be held in Kochi. I attended the 2010 Summit in San Francisco as a last minute participant and was impressed at the hard work of the volunteers. After returning to Japan, I started to consider how we in Kochi could welcome our American guests and ensure they had a wonderful time here.
During the summit, I accompanied participants on a long bus journey deep into the mountains as well as attending local sessions and activities in Kochi. They all listened attentively and helped me when I had language difficulties. I was so touched by this and am really happy that I could spend time with them.
I was able to see firsthand the grassroots ties being made between Japan and the US, and participants learning about each other's customs and cultures. I hope that in the future many more people will participate in Grassroots Summits and be able to experience everything that I did and more.
Carrie Morrow, Colorado

※Abr. And Reprinted from:Amache Preservation Society Newsletter, Volume 6, Issue 1, 9/10/2011

Trip to Japan: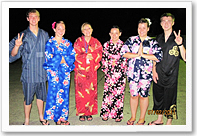 Five Granada High School students, representing the Amache Preservation Society, and a chaperon attended the 21st Japan-America Grassroots Summit in Kochi, Japan on the island of Shikoku, June 27 − July 4, 2011. Kochi is the birthplace of John Manjiro Nakahama.
During the first two days, we stayed in Tosashimizu where we went to the opening ceremony, got to view the very famous Cape Ashizuri on Shikoku Island, enjoyed our first Japanese onsen experience [hot springs], ate many different unfamiliar foods, toured the high school in Tosashimizu City, and learned about some traditional Japanese instruments. After the second day, each of us stayed with a different host family for three nights. Some of us got to see the fire station, eat at sushi bars, and go to the arcade. We stayed the nights with our host families, but during the day we met up with the group again and got to see the Seashell Gallery and make our own sea candles; we visited the John Mung Museum, the John Manjiro Statue, and the birthplace of John Manjiro.
Each of our host families lit off fireworks with us which we all enjoyed very much. On the last day with our families, we got together and had a traditional barbecue at the beach and went swimming in the ocean. All the moms drove us to the ''Sunnymart'' grocery store and picked up the food, while the dads went to the beach to set up. For two of us, it was our first time to ever even see the ocean.
We all had a great time playing Ultimate Frisbee on the beach with our host brothers and their Australian instructor, Adam Morrison (whom we met at the high school). Later that night, we celebrated the last night with our host families at a nice restaurant where we enjoyed live entertainment and had the opportunity to wear traditional kimonos given to us by our host families.
The next day, while everybody else in the summit was saying goodbye to their host families, our five host families arranged to car pool us to Kochi City where the summit's closing ceremony was at the Botanical Gardens, in order to spend more time with us. Before we went to the ceremony, our families drove us to the Aeon Mall. This was a wonderful experience for us as we hadn't had much time to shop for souvenirs during the week. Everybody shed a few tears as we said our final goodbyes to our host families.

Back to preceding page

Back to top

Atsushi Nishimura

I learned a lot!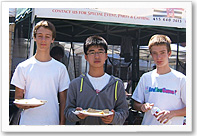 The Grassroots Summit was a great opportunity for me to learn many things about American history, including about discrimination against African Americans and the phrase "bus boycott". I did not know that African Americans were treated in such a way only 40 years ago. Visiting the school related to Martin Luther King gave me to chance to learn more about this issue. My host parents and their twin sons, Peter and Eric, were so friendly and treated me like one of the family. I am very thankful of the opportunity to stay with them. Everything about the homestay programme was very enjoyable.
Miyako Ogami

Homestay experience is my lifetime treasure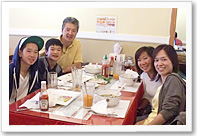 The memories I made with my host family will stay with me forever. Through my time with them I was able to learn about the history of Chinese Americans and Japanese Americans. My host family, whilst staying proud of their parents and grandparents, are a new generation with a more free, fun way of life. We stayed up late chatting, went out to restaurants, and visited the beach, twin peaks and other famous places together. Thanks to sightseeing with them, I am now able to understand maps of San Francisco! It was such an experience to see first hand how the Chans are raising their two sons in a close-knit community linked through sporting and school activities. I would like to thank them from the bottom of my heart.
Taeko Aizawa

Amazing opportunity to see the real America


The Grassroots Summit is completely organised by volunteers in the local areas. Japanese participants were spread out over 10 different locations in the Bay Area for the homestay program. My guide, Dr Shibata, is a lecturer at a university but is also a volunteer teacher at an elementary school. It was surprising to learn that the PTA has the power to appoint teachers at schools in the US, as this process is very different to that in Japan.
It seemed that not many students live in San Francisco due to the high rent prices. However, many of the old houses there are kept in good condition by the owners.
Recently in Matsushima (where I live in Miyagi prefecture), rental cycles are growing in popularity and it was the same in San Francisco - despite the numerous hills! As it is so environmentally friendly, I really hope that sightseeing on bicycles takes off in Matsushima too.
This trip was an amazing opportunity for me to see the real San Francisco through the eyes of its residents. This has encouraged me to volunteer as a Matsushima Goodwill Guide at home and continue this face to face internationalisation.
Potenza Winfred (Host family)

Hard to forget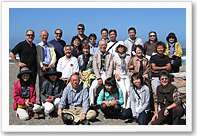 It is hard to believe that a year has passed since we had our wonderful guests here in Sonoma County.
When I first started working with Megumi, Executire Director of 2010 Summit, I never knew how important this event was going to be in my life.
Each and every one of the hosts feel the same way.
We loved our guests.
And what adventures we all had together.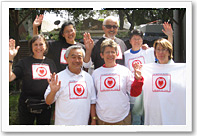 Driving up the coast, going to the beach, Exploring wineries, redwoods. We went to the Charles Schulz Museum (Snoopy, Charlie Brown) Had a BarBQue at a the Halleck Vineyard Lunch at an Indian Restaurant at the mouth of the Russian River.
But most of all was creating friendships. Often without language.
How does it get any better than that?
The whole experience, from beginning to end, will always be in my heart.
Nahomi Aso

The En (Bond) of Kanrin Maru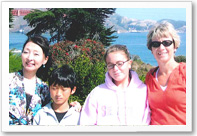 Many of you may remember an illustration in the textbook of crossing the Pacific Ocean in the Kanrin Maru. All of us connected to the Grassroots Summit knew very well that Kaishu Katsu was assigned to command the Kanrin Maru and that John Manjiro played a vital role during its first voyage across the Pacific Ocean as Tokugawa Bakufu warship.
My parents' home is "Kessanji", a family temple of Kojuro Katakura, senior retainer of Masamune Date. In 1871, Kanrin Maru left for its last voyage with 401 people of the Shiroishi Katakura clan from Sabusawa (present-day Shiogama city) to Otaru, Hokkaido. It was run aground and foundered by a terrible storm at Saraki cape. Fortunately, they were rescued by people in Kikouchi and relocated at present Shiroishi ku, Sapporo city.
A big celebration for "The 140th Anniversary of the End of Kanrin maru" was held at Saraki cape in September 2011.
I felt an earnest connection through my participation to the San Francisco Summit 2010 because the links between the Kanrin Maru and my ancestors are so deep.
I joined the San Francisco Summit with my nephew who lives at Kessanji, and I believe that it also has been a precious opportunity for him, including the pleasant time spent with a host family in Contra Costa. I unceasingly pray that the day will come when we meet again with thanks to all members, volunteers and staff connected with the "en" (bond) of Kanrin Maru.
Jeannie Ichimura (Host family and Participat of Kochi Summit in 2011)

Summit Experiences in San Francisco & Kouchi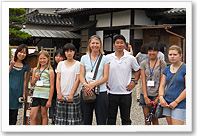 We first participated in the Summit in 2010 as a host family. It was extremely enriching to open our home to our new friends from Japan and introduce them to San Francisco and our life here. Our home-stay guests were a mother and daughter from the Sendai area. It was a perfect match since we also have two daughters. The girls became instant friends despite the language barrier, and we have remained in contact throughout the year. They even came back for another visit with us this summer!
We were inspired to go to Kochi to participate in the 2011 Summit since we had such a wonderful experience last year. I have been to Japan before, but this was a completely new experience for me. We had many unique opportunities to see and experience a Japan that most tourists never encounter. The local session (home-stay) portion of the trip was the highlight for us all. We had so much fun with our host family and local session volunteers!

Back to preceding page

Back to top


Kelly Morikawa

Please come to America one day!


Miyagi was beautiful and charming in many ways. Although we had not actually chosen Kurihara as one of our original choices, we were very glad we got to experience Kurihara! We made good friends with many people, exchanged lots of addresses and email addresses. Our host family was a good match for us, with many of the same interests: dance, horticulture/ agriculture, to name a few. I will definitely plan to come back to Japan. Especially now that we have many friends there! And we hope that some of the friends we made will come to visit us in the U.S. sometime too. Thank you for opening our eyes to this wonderful international exchange!
Joe Barrett

We became close friends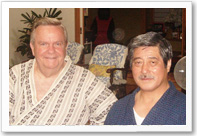 The true richness of our experience comes in the home stay and the organized activities are a wonderful addition. Each of us were welcomed in to homes of complete strangers and left feeling like part of their extended family. Each day I retuned from the activities of the day, the hostess, Setsuko-san, welcomed me "home". The host, Kiyoshi-san, called me "Aniki" or older brother at the end of the four days as we became close friends.

Amy Jackman (Host family)

Amazing experience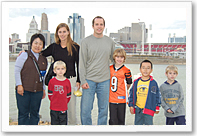 It was a life changing experience for my family. We will always remember the weekend we spent with our Japanese family. It is amazing how 'close' you can become to strangers who don't speak your language!
Kazuko Oki

Tears in our eyes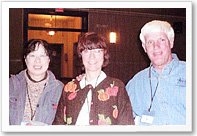 At the opening ceremony, my hosts Roy and Linda held a card with my name written on, and came and found me. It was a very emotional first meeting. There were times when we overcame the language barrier with Linda using her pocket dictionary, and myself my electronic dictionary and writing things down. But, Linda was a very attentive host, and so I could manage to tell hear almost everything that I wanted to say to her. When we said goodbye, we both had tears in our eyes. I can clearly remember the tears welling in Linda's eyes. I had a truly amazing experience!

Hiroshi Nakagawa (Key person at Shika local session)

Even 80 year old mother can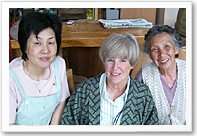 It was a busy but incredibly fun filled, dreamlike four days. The most memorable moment was seeing my mother, who is 80 years old this year, speaking to our guest, Barbara! Of course my mother cannot speak English at all. Barbara spoke English, and my mother spoke in Japanese, and yet somehow they seemed to understand what the other wanted to say. So, we can connect heart to heart even without words, after all. This made parting all the more difficult and eye watering. I would definietely like to participate in Kentucky next year, of course taking everyone from Shika Town.
Carl Gustav Finstrom

Together with My Granddaughter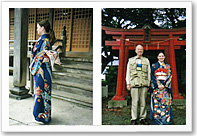 The Noto Grassroots Summit was my fifth such event in Japan. This year I took my oldest granddaughter for her first visit. Two years ago I took my oldest grandson. Both were very impressed by the friendliness of the people, the beauty of the landscape and the extraordinary culture. I was more than pleased because both my grandchildren became interested in learning more about the history and culture of Japan, to include even attempting to learn the language. One final thought. We were all very impressed by how the people of the Noto Peninsula came together to meet the challenge of recovery following the March earthquake.

Back to preceding page

Back to top