Special Luncheon and Keynote Speech by CIE Chairman Masaharu Kohno
2017.09.19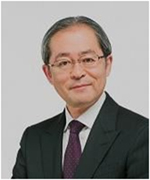 CIE Chairman Masaharu Kohno will make Keynote Speech at a Special Luncheon presented by The Japan America Society of Southern California, USJC and partnering organizations.
This is the first public appearance of Chairman Kohno since completing his posting as Consulate General of Japan in Los Angeles in 2003. He will discuss his current work in Tokyo, as well as U.S.-Japan cooperation in international affairs.

Time: November 16, 2017 from 11:30am to 2:30pm
Place: DoubleTree by Hilton Los Angeles Downtown
Admission: $75 per guest

For more information and to register, please see the Japan America Society of Southern California webpage
here
TOMODACHI Initiative HP Covered MBC Students' Participation in The Summit!
2017.07.31
The Macon-Bibb County students' participation in the Nara Grassroots Summit was covered by the homepage and the newsletter of TOMODACHI Initiative which enabled the students' attendance in the Summit with their grant.
More>>
Wrapping Up Another Successful Grassroots Summit in Nara!
2017.07.21
The Japan -America Grassroots Summit 2017 in Nara Prefecture successfully ended on July 3 after seven days with 109 participants from various parts of America.
More>>
Packaged price from Boston added!
2016.12.20
The packaged participation fee from Boston was added in the "information" page.
Nara Grassroots Summit Brochure Uploaded!
2016.11.28
The detailed brochure of the 27th Japan America Grassroots Summit in Nara is completed, and its PDF version can be downloaded from the top page. The online application will become available in December.
2016.06.28
Special web pages of Nara Grassroots Summit 2017 opened!
Special web pages is here >> 2017 in Nara | Japan America Grassroots Summit
Nara was selected as the 27th Annual Grassroots Summit venue
2016.03.20
The 2017 Japan America Grassroots Summit will be held in Nara, an ancient capital city that treasures its people alongside its traditional architecture including Buddhist statues, temples, and shrines. Some of them were designated as UNESCO World Heritage Sites and Japanese National Treasures.