Packaged Participation Fee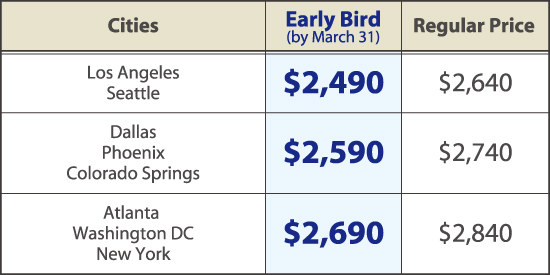 The listed prices do NOT include
- Airline taxes and fuel surcharge
( FYI: As of Aug. 2018, fuel surcharge & taxes are $385 for the round trip between JFK/LAX and Osaka Itami. )
- 4% credit card processing fee
- Hotel single supplement surcharge
- Optional tour during and after the Summit program
The listed prices include
- Round trip transportation between the listed cities (left) and Hyogo, including international & domestic airfares and bus cost
(Please contact with Nippon Travel Agency about the departure from other cities)
- Hotel accommodation in Hyogo based on the double occupancy
- Bento box dinner on 6/25
- All breakfast in Hyogo
- Most of the meals during Local Session
- All transportation in Japan during the Summit period
- All participation, administration and handling costs for the Summit
* Opening and Closing ceremonies & receptions are invitation by Himeji City and Hyogo Prefectural Governments.
1. Youth Discount
- Children, 3 - 11 years old
$150 discount (Early Bird discount also applicable)
- Students, 12 - 25 years old
$100 discount (Early Bird discount also applicable)
- Infants, 0 – 2 years old $300 for all costs
2. Hotel Rooms
- Listed prices are based on double occupancy. Unless otherwise requested, another participant may share a room with you.
- Please indicate in the application form if single occupancy is required.
Single Supplement Surcharge: $100 for 3 nights
3. Any changes to your schedule made after the deadline will incur a substantial penalty
4. Application Deadline: May 5, 2019
5. How to Register
The online application is available starting mid-October 2018. Visit the following website and click on the Hyogo-Himeji Grassroots Summit page. Or, send the application form and photocopy of your passport to the NTA office (below). Upon receipt of your application, NTA will send you an acknowledgement letter with cancellation policy and other guidance.
http://www.manjiro.or.jp/e



6. Credit Processing Fee
Payment by credit card will incur a 4% handling charge.
7. All participants are required to accept responsibility for travel and medical insurance and for payment and/or reimbursement of any medical/surgical expenses incurred.
Regarding Travel
Nippon Travel Agency America, Inc.
(Greater Los Angeles Branch)
Mr. Kevin Cowen/Ms. Yoko Adachi
Address: 1411 West 190th Street, Suite 650, Gardena CA 90248
Tel: 1-310-630-0898
Email: grassroots@ntaamerica.com
Regarding the Summit Program
CIE-US
(C/O National Association of Japan America Societies)
Address: 1819 L Street NW, Suite 800, Washington, DC 20036
TEL: 202-429-5545
FAX: 202-429-0027
Email: manjiro@us-japan.org